Xfinity is one of the popular apps that lets you enjoy streaming movies, sports, and shows. It is live TV and on-demand app that contains more than 200 live TV channels. Here is the information regarding "Xfinity on Firestick"
It has thousands of shows which you can watch online or offline sitting anywhere.
No more worrying about subscription fees, signal issues, and access to offline mode.
It can be accessed through major platforms like Android, Windows, Mac, iOS etc.
Amazing Features of Xfinity Stream on Firestick:
Watch live TV anywhere anytime on this app.
More than 200 channels are available through Xfinity Stream on Firestick.
With filter option, you can sort out streaming shows, available to download shows, and many more down the line.
Easy access to offline mode.
This app displays some recommendations based on your recent views so you can watch more of similar interests.
Xfinity supports fast-forwarding, rewinding even in offline mode.
You can schedule DVR recordings, download them, and move to the library to watch later. 
Cool, isn't?
How to Install Xfinity on Firestick?
Follow these easy steps to enjoy the streaming shows:
Go to the Firestick Home Screen and navigate the search icon.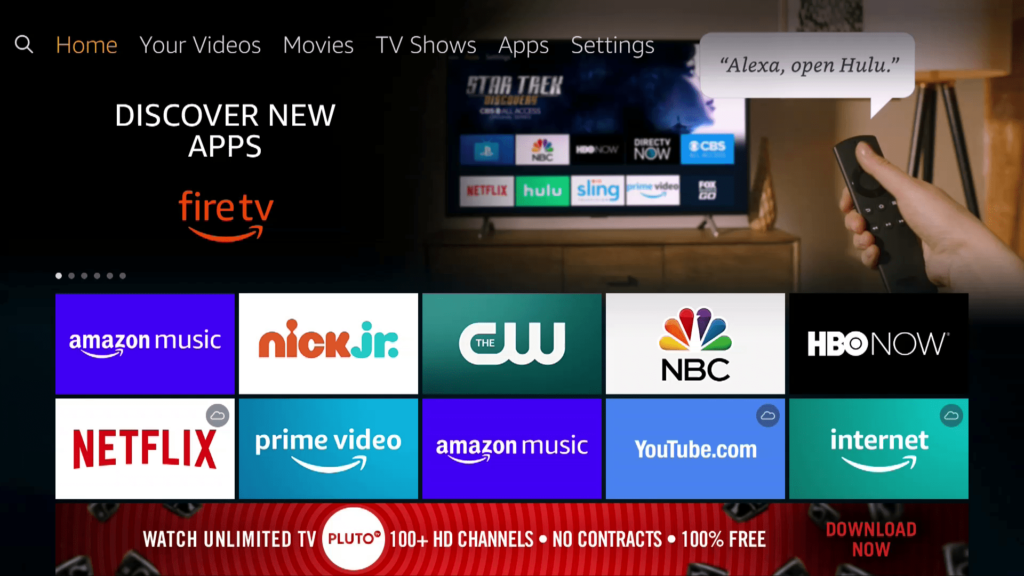 Type Xfinity stream on the search window.
The search results display the Xfinity Stream app on firestick. Click 'Get' to get it downloaded.
Wait for a while until the app is downloaded.
When it is done, click 'Open' to launch Xfinity on Firestick.
Next, click 'Get Started'.
Now You need to enter your login credentials carefully.
You successfully landed on the Xfinity on Firestick. 
NOTE: You cannot be able to access this app if you are not a US user. This is because of their privacy policy and geometrics restriction. It is not officially available in many regions.
In that case, You need to sideload this app.
We are here to guide you through which you can enjoy your shows without worrying about legal issues.
There are many third-party apps to install this but Downloader app and ES File Explorer app are best.
We will use Downloader to serve this purpose.
Alternate way to install Xfinity on Firestick:
Go to the App Store and install the 'Downloader app'.
Open the App. 
Copy and paste the following URL:
https://www.mediafire.com/file/ttah5dcl4hx414d/com.xfinity.cloudtvr_50200054_apps.evozi.com.apk/file
Click 'Go'.
The installer file starts downloading on your firestick.
Wait and let the installer tab open automatically.
Click 'Install'. After a few seconds, the installation process will be completed.
Click 'Open' and start a new world of entertainment.
You can enjoy numerous live streaming shows on the app and firestick connected TV as well.
The variety it provides is the primary reason to make it one of the leading apps. 
NOTE: DELETE the apk file once the app is downloaded as you don't need it anymore.
Also Read: Thunder TV Apk – Download Latest IPTV Android [2020]
How to use Xfinity on Firestick?
After the app is installed, it is pretty simple to use.
Don't panic! It is tantamount to other apps.
Go through these easy-to-follow methods:
Open the 'Apps and channels' section.
Navigate Xfinity stream on Firestick.
Enter the account login details which you used previously.
Once you are done with login, you can watch your favorite shows there.
Enjoy live streaming and on-demand shows anywhere anytime from Xfinity on Firestick. 
Share with us your first experience on the app and reach us freely for any queries.
Conclusion:
We have talked everything about Xfinity on firestick from downloading to installing to using this app.
If you face any issue regarding this app. You can surely contact us via the comment section below. Team CSHAWK will be soon in touch with you.